Basic qualifications:
Employee of local school district or Open-enrollment Charter School;
School District Administration or Open-enrollment Charter School Administration approval;
Current holder of the Texas License To Carry (LTC); and,
Complete additional School Safety Training course.
aka the "Guardian" or "Defender" program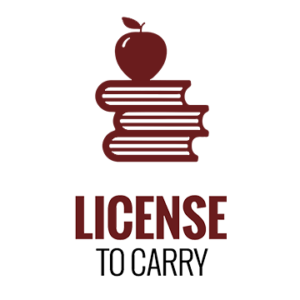 If your school district has decided to allow armed educators in the classroom, the first step is to get your license to carry a handgun; then, continue your training in school safety by attending a School Safety Training Course.
If you just want to learn more about the laws and regulations regarding handguns, use of force, how a premise is define; or, if you want to know if are handguns allowed in parking lots, on side walks or in vehicles parked at school or work; or, if you want to know what responsibilities gun owners have to keep their firearms secure, prohibited places, and 30.06, 30.07 and 51% signs; or, if you would like to learn non-violent dispute resolution techniques, you can take the LicenseToCarry.com online LTC course to learn these and other topics related to handguns and license to carry in Texas.
All school district employees can benefit from attending basic LTC training, regardless if the employee wants to carry a handgun personally, or as part of the school safety or school marshal programs, or not at all.
HB 3784 enabled LicenseToCarry.com to offer the required 4 to 6-hours classroom training and written examination for the Texas License to Carry a Handgun.
Online LTC classroom training teaches students:
Laws related to use of force and deadly force;
Use of handguns including laws and regulations of where firearms are prohibited;
Non-violent dispute resolution; and,
Safe storage and gun safety; including how to eliminate the possibility of causing injury to a child by firearms.
School Safety Training is 16-hours additional training offered to school employees who have completed the basic LTC training which covers:
Protection of Students;
Interaction with First Responders;
Tactics for denying an intruder entry into a classroom or school facility; and,
Methods for increasing an LTC holder's shooting accuracy.
STEP 1: Get your LTC started at LicenseToCarry.com
STEP 2: Continue your School Safety Training.
Got Questions?
If you have questions about the basic LTC of the School Safety Traiing, let us know and a qualified instructor will reply to your question.
| | |
| --- | --- |
| By: Estes, Campbell, Patrick | S.B. No. 1857 |
 
 

A BILL TO BE ENTITLED

 

AN ACT

 
relating to the certification of certain qualified handgun instructors to conduct school safety training.
 
 
 
       BE IT ENACTED BY THE LEGISLATURE OF THE STATE OF TEXAS:
 
       SECTION 1.  Subchapter H, Chapter 411, Government Code, is amended by adding Section 411.1901 to read as follows:
 
 
 
       Sec. 411.1901.  SCHOOL SAFETY CERTIFICATION FOR QUALIFIED HANDGUN INSTRUCTORS.  (a)  The department shall establish a process to enable qualified handgun instructors certified under Section 411.190 to obtain an additional certification in school safety.  
 
 
 
 
 
 
 
The process must include a school safety certification course that
 
provides training in the following:
 
             (1)  the protection of students;
 
             (2)  interaction of license holders with first
 
responders;
 
             (3)  tactics for denying an intruder entry into a
 
classroom or school facility; and
 
             (4)  methods for increasing a license holder's accuracy
 
with a handgun while under duress.
 
       (b)  The school safety certification course under Subsection
 
(a) must include not less than 15 hours and not more than 20 hours of
 
instruction.
 
       (c)  A qualified handgun instructor certified in school
 
safety under this section may provide school safety training,
 
including instruction in the subjects listed under Subsection (a),
 
to employees of a school district or an open-enrollment charter
 
school who hold a license to carry a concealed handgun issued under
 
this subchapter.
 
       (d)  The department shall establish a fee in an amount that
 
is sufficient to cover the costs of the school safety certification
 
under this section.
 
       (e)  The department may adopt rules to administer this
 
section.
 
       SECTION 2.  This Act takes effect September 1, 2013.